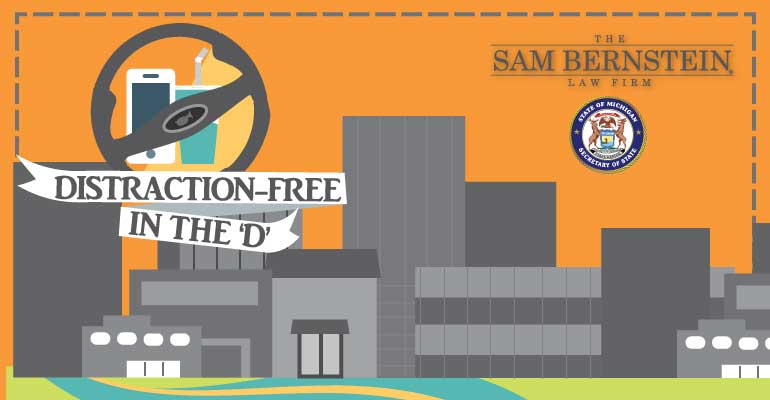 Distraction-Free Detroit Winners!
October 23, 2015
Car crashes are the leading cause of death for 14 to 18 year-olds in the United States, according to NHTSA. In 2013, 2,614 teens 15 to 19 years old were involved in fatal crashes while driving, and an estimated 130,000 were injured. In nearly 6 out of 10 incidents, driver distraction was involved, says the AAA Foundation for Traffic Safety. A recent NHTSA survey showed that only 25 percent of parents have had a serious talk with their kids about the key components of safe driving.
A Press Release from the Michigan Secretary of State's Office:
LANSING, Mich. – Parents need to know that the greatest risk to teenagers is a traffic crash and what they teach their young driver can help avoid a tragedy, says Secretary of State Ruth Johnson.
As part of National Teen Driver Safety Week, Johnson is encouraging parents to be more involved in teaching their kids safe driving behaviors.
Johnson also announced winning high schools in the Distraction-Free Detroit contest that was part of her department's campaign with The Sam Bernstein Law Firm to educate teens about the dangers of distracted driving.
The Michigan Secretary of State's Office and The Parent's Supervised Driving Program are promoting the National Highway Traffic Safety Administration's (NHTSA) "5 to Drive" campaign as part of National Teen Driver Safety Week, which runs Oct. 18-24.
The Campaign
The campaign encourages parents to talk to their young drivers about five critical safe driving recommendations:
No cell phones while driving
No extra passengers who cause distractions
No speeding
No alcohol
No driving or riding without a seat belt
Johnson has partnered with the national nonprofit group Safe Roads Alliance since 2013 to offer The Parent's Supervised Driving Program, a comprehensive instructional tool aimed at helping parents coach their teens on safe driving. Program guidebooks are given to parents of teens who receive a Level 1 Learner's License. A free mobile app, RoadReady®, is also available to log the required minimum of 50 hours of supervised driving time including 10 hours at night.
"Even though your teen might be gaining independence and getting older, protecting them from harm shouldn't stop," said Johnson, herself a mother of a teenager. "The '5 to Drive' campaign and The Parent's Supervised Driving Program give parents the tools they need to keep their children driver safe."
"The first six months of independent driving are the most dangerous that a driver will face in his or her lifetime," said Safe Roads Alliance President Jeff Larason.
Distraction-Free Detroit
In the Distraction-Free Detroit contest that concluded Oct. 12, high-schoolers in Macomb, Oakland, and Wayne counties had the opportunity to take a stand against distracted driving and win $2,500 for their school provided by The Sam Bernstein Law Firm.
About 5,000 students at participating schools went to Michigan.gov/TeenDriver to take a pledge against distracted driving. More than 2,500 parents, school faculty, staff and supporters also went to the site to take a quiz. Total points earned were divided by school population and winners were selected in the four enrollment-based classifications. The schools, ranked by participation rate:
Class A – Marion HS (Bloomfield Hills), Riverview HS, Utica HS, St. Mary Preparatory HS (Orchard Lake), Franklin HS (Livonia), Southfield HS, Warren Mott HS, Carlson HS (Gibraltar), Romeo HS, Groves HS (Beverly Hills), Troy HS, Stevenson HS (Sterling Heights), Seaholm HS (Birmingham), Novi HS, Utica Eisenhower HS (Shelby Township), Athens HS (Troy)
Class B – South Lake HS (St. Clair Shores), Advanced Technology Academy (Dearborn), Lamphere HS (Madison Heights), César Chávez Academy HS (Detroit), Clarenceville HS (Livonia), University Prep Science & Math HS (Detroit), Regina HS (Warren)
Class C – Memphis HS, Shrine Catholic HS (Royal Oak), West Side Academy (Detroit)
Class D – Universal Academy (Detroit), Westside Christian Academy (Detroit), Auburn Hills Christian School
Johnson commended all schools and students for participating and gave special mention to Utica High School, which didn't have the highest participation rate but led all schools with 883 pledges taken by students against distracted driving.
"We are honored to work together with Secretary of State Ruth Johnson to raise awareness about this critically important issue," said Mark Bernstein, president and managing partner of The Sam Bernstein Law Firm. "We are thrilled that this program has educated teens about the risks related to distracted driving. This is just the beginning of our work. There is much to be done."
More information for parents is available at:
www.theparentssuperviseddrivingprogram.com