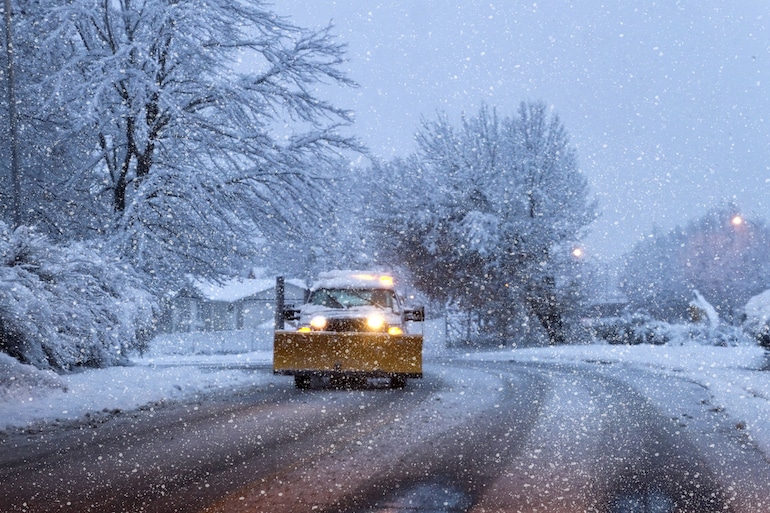 How to Avoid an Auto Accident This Winter
December 13, 2018
There is nothing quite as beautiful as a new snowfall…until you have to get behind the wheel. While driving in snow and icy conditions can be stressful and hazardous, it is a necessity for most Michigan drivers.
Here are some safety tips from the U.S. Occupational Safety and Health Administration (OSHA), the Automobile Association of America (AAA) and the National Highway Traffic Safety Administration (NHTSA) on the best ways to avoid an auto accident during this potentially treacherous season.
While vehicles should always be properly maintained, this is especially important in winter. Before heading out, make sure to do the following:
Check your battery, tires (snow tires are recommended), windshield wipers (replace worn blades if necessary), defrosters and lights.

Check headlights, brake lights, turn signals, emergency flashers and interior lights.

Make sure the car has a sufficient supply of antifreeze and no-freeze windshield washer fluid. Keep extra washer fluid in the trunk.

Keep a supply of emergency items such as jumper cables, flashlight, abrasive material (sand or kitty litter), shovel, snow brush and ice scraper, cell phone charger, blankets, food, water and warning devices such as flares and reflective markers.
Before You Go
Plan your route. If possible, use a GPS app such as Waze that keeps you apprised of weather, traffic and road conditions and potential hazards.

Leave early and allow extra time to reach your destination safely.

Let others know your route and expected arrival time.

If you are renting a car, become familiar with the vehicle before setting out. Know how to use wipers, defrosters, hazard lights and other emergency features.

If traveling with children, make sure you have the right car seats and booster seats for their size and age and that the seats are properly installed.

Make sure all seat belts are working properly.
Safety Tips for Winter Driving
Drive slowly. If conditions are hazardous, drive below the posted speed limit.

Steer into a skid.

Remember that stopping distances are longer on ice and water-covered ice.

Accelerate and decelerate slowly.

Slow down when approaching a stoplight or stop sign, especially if roads are icy.

Increase normal following distance of 3-4 seconds to 8-10 seconds.

Know your brakes. For anti-lock brakes, apply firm, continuous pressure to the brake pedal. For non-anti-lock brakes, you may need to pump your brakes if your wheels start to lock up.

Don't power up hills. Try to get some inertia going before you reach the hill, and let that inertia carry you to the top. As you reach the crest of the hill, reduce speed and proceed downhill as slowly as possible.

Never drive after using drugs or alcohol.

Keep your gas tank close to full, even with a hybrid-electric vehicle.

Do not text or engage in any distracting activities while driving.

On longer trips, take time to stretch, eat and drink (non-alcoholic beverages).

Never drive when you are tired. Change drivers or stop and rest instead.

If possible, avoid driving when road conditions are extremely hazardous.
What to Do in a Winter Emergency
If you are stopped or stalled in wintry weather, follow these safety rules:
Don't idle for a long time with the windows up or in an enclosed space.

Stay in the car until help arrives.

Put bright markers on the antenna or windows and keep the interior dome light turned on.

If you must run your car, clear the exhaust pipe of snow and run the car just enough to stay warm.
"An auto accident can happen to the most careful drivers, especially in winter," said Mark Bernstein of The Sam Bernstein Law Firm. "If you or a loved one is injured in a crash, call us. Our experienced lawyers will fight to win the compensation you and your family deserve."
Auto accident law is complicated, but finding the right lawyer is simple.
Call 1-800-CALL-SAM today for a free, no-obligation consultation.
Sources: