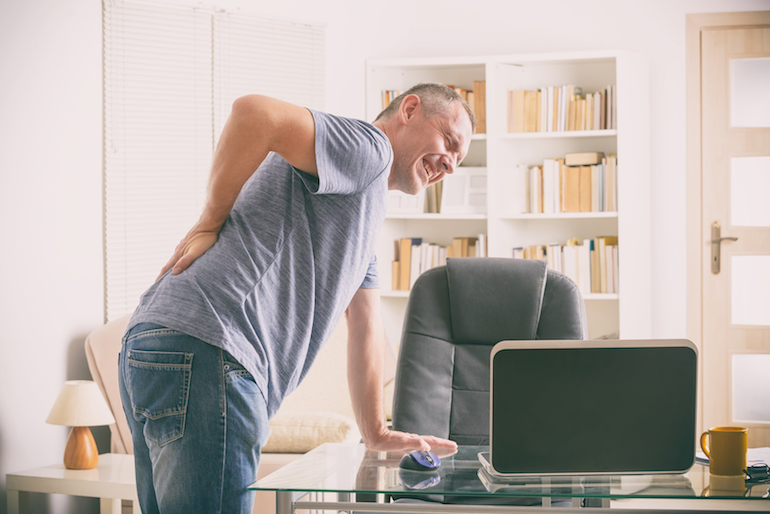 Do you Have Lower Back Pain or Injury?
January 15, 2014
Just about everyone has suffered lower back pain at one time or another during their life. Not surprising, it is the number one cause of job-related disability and the second most common cause of lost work days. Lower back pain is one of the leading reasons people visit emergency rooms and doctor's offices. It is estimated almost 50 billion dollars a year are spent on treatment in the United States.
Lower back pain is categorized in two ways: acute and chronic. Acute lower back pain is of short duration, lasting less than three months. Symptoms often result from sudden stressors to the lower back such as a car accident, sports injury, work around the home or job, shoveling, lifting, gardening, slipping, falling or any other activity that could stress the back.  Pain caused by these injuries are often muscle aches, shooting or stabbing pains, inability to stand straight and limited flexibility or range of motion. Some acute injuries can become chronic if left untreated. Chronic back pain is pain lasting three months or longer and can get progressively worse. Causes of chronic pain can be from spinal injuries and arthritis.
Treatments for lower back pain vary and include the use of over-the counter-analgesics, hot and cold treatments to the injured area, mild exercise and bed rest. It is suggested when on bed rest to lay on your side with a pillow between your knees. Prolonged periods of bed rest are not usually recommended. Studies have found prolonged bed rest increases pain and can lead to other problems such as depression, blood clots, and decreased muscle tone. If back pain lasts longer then 72 hours or increases, seek medical attention.
Chronic back pain has many causes and may also be relieved with the use of analgesics and exercise. Some people find chiropractic adjustments to be very helpful in relieving chronic pain. Causes associated with chronic back pain are aging, arthritis which can narrow the spinal column and put pressure on the spinal cord, and disc injuries caused by compression of the spine, herniated discs, ruptured discs and fractures.
Reasons to Visit the Emergency Room:
Inability to walk or walk on your heels
Unable to stand on your toes or raise the big toe upwards
Bladder or bowel functions are reduced or lost altogether, incontinence or difficulty starting or stopping the urine stream
Loss of feeling and limb function.
Surgery is only recommended, and should only be considered, in the most serious lower back injuries and chronic conditions. Back surgery is not always successful and it can take months before full healing is achieved. Some minor procedures may be done in the doctor's office with just the use of a local anesthetic. Other surgeries require invasive surgical procedures, prolonged hospitalization, and extensive rehabilitation.*
Almost everyone will suffer a lower back injury over the course of their lifetime. Most will heal with little or no treatments and never suffer from back pain again. The best treatment is prevention. Practice core building exercises to keep your back strong and don't lift heavy objects that you cannot handle. If doing something that repetitively flexes your back, take breaks often and don't overdo it.
Resources: