Call Sam Big Game Giveaway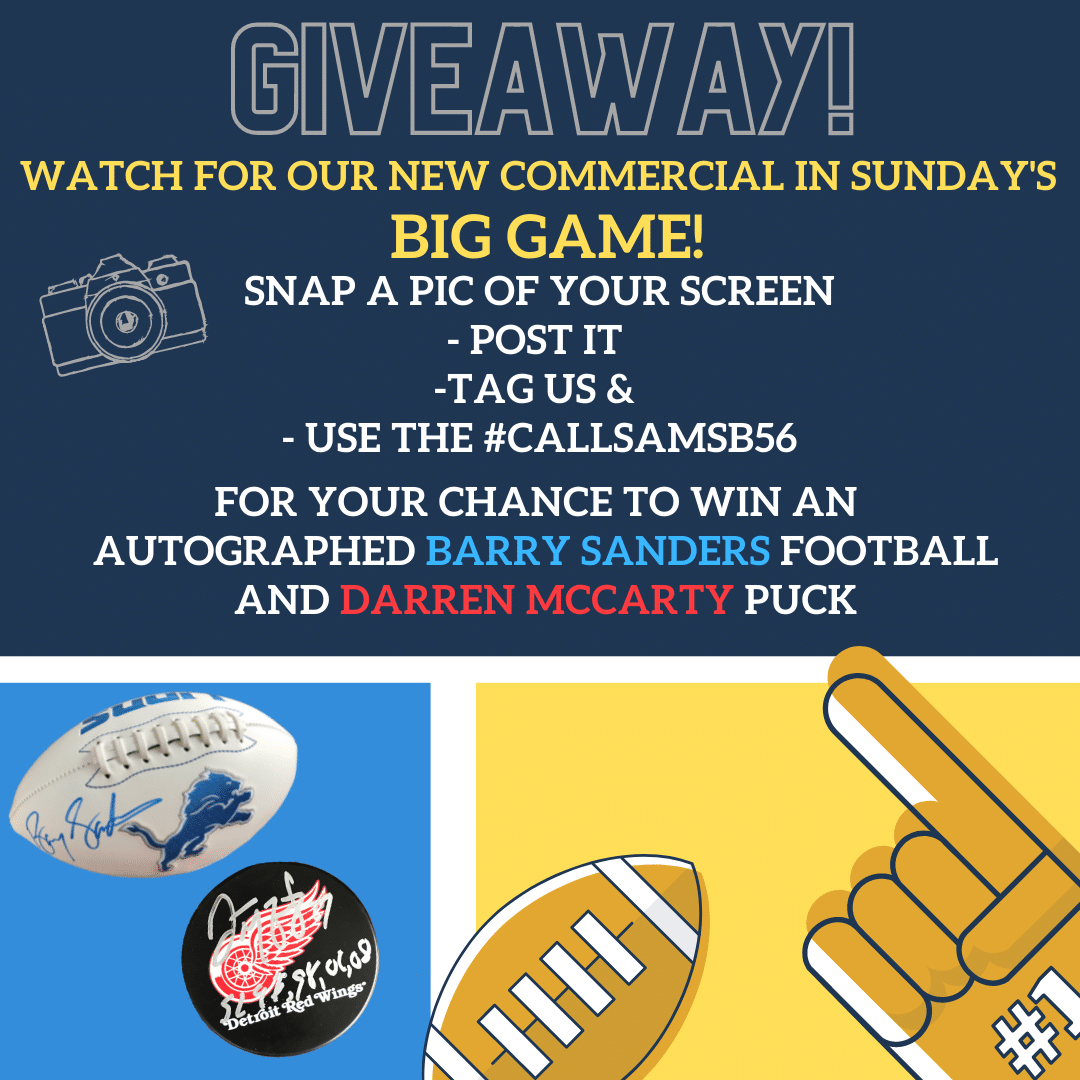 Enter To Win Detroit Sports Memorabilia!
The Sam Bernstein Law Firm is excited to be giving away three (3) Barry Sanders signed Detroit Lions footballs, along with, three (3) Darren McCarty signed Red Wings hockey pucks! Three winners will be chosen in total with each winner receiving a prize package of one football and one hockey puck.
See below for a full list of rules and regulations!
In order to enter for your chance to win a prize package, please complete the following steps:
Watch for our commercial in Sunday's Big GamE
Snap a picture of your screen
Post said picture to any of the following social media platforms
Tag us using the appropriate handle:
Use the hashtag #CALLSAMSB56 in your post
Make sure your account is set to "Public" so we can view your post
Also be sure to like and follow our social channels for important updates on the contest
Then sit back and enjoy as winners will be chosen Monday February 14, 2022 and notified via direct message on the appropriate social media channel used to submit their entry. Don't forget to like and follow those channels so you don't miss any important updates or announcements. Winners will then have until Wednesday February 16, 2022 at 11:59pm to respond and confirm. If the winner does not respond within the 48 hour period another winner will be chosen.
The prizes for this Sam Bernstein Law Firm, PLLC ("the firm") sweepstakes are:

Autographed Detroit Lions Football by Barry Sanders
Autographed Detroit Red Wings Hockey Puck by Darren McCarty

Entries may be made beginning February 13, 2022 at 5:30p EST and must be received by 11:59pm on the same day (February 13, 2022). Only one entry per contestant may be made. Duplicate entries will be eliminated.
Anyone may enter, provided that all entrants must be Michigan residents over the age of eighteen (18). Employees or family members of The Sam Bernstein Law Firm, PLLC, are not eligible to enter.
How to enter:

Capture a photograph of the user's screen (computer, TV, tablet or Phone) that includes The Sam Bernstein Law Firm's commercial aired during the Super Bowl football game coverage on February 13, 2022. Users may NOT capture images or videos that are hosted on any of the firm's social media channels, including: Facebook, Twitter, Instagram, YouTube, LinkedIn, etc.
Post/Upload captured photograph to the user's Social Media account (Facebook, Twitter and/or Instagram) with the hashtag (#) "#CALLSAMSB56". The user's account must be "public" to be eligible for consideration; "private" accounts are ineligible.
Tag The Sam Bernstein Law Firm's respective social media channel handle on said post (ex. @callsam)
There is no fee to enter. No purchase is necessary

Three winners will be chosen by random drawing from each social media platform (Facebook, Instagram and Twitter) on February 14, 2022 and notified via direct message to the user's social media profile used to place the entry. Please make sure that your entry contains all necessary parts. Prizes will be distributed to the winner via the United States Postal Service to the address provided in the entry form.
Prizes may be subject to federal, state or local taxes. Winners will be responsible for any state, local or federal taxes that may result from winning.
This promotion is in no way sponsored, endorsed or administered by Facebook, Instagram, or Twitter.
In the event that unforeseen technical difficulties arise that prevent receipt of entries before the deadline, such as a website or social media platform going down, the entry deadline and drawing will be postponed for 24 hours. If service is not restored within 24 hours, the deadline and drawing will be postponed for 24 hours after service is reinstated.
All winners must qualify by completing all necessary steps in order to receive their prize. If the chosen winner is not able to be reached within 48 hours to confirm shipping information and acceptance, another winner will be chosen at random. Winners may only win one prize package per person.