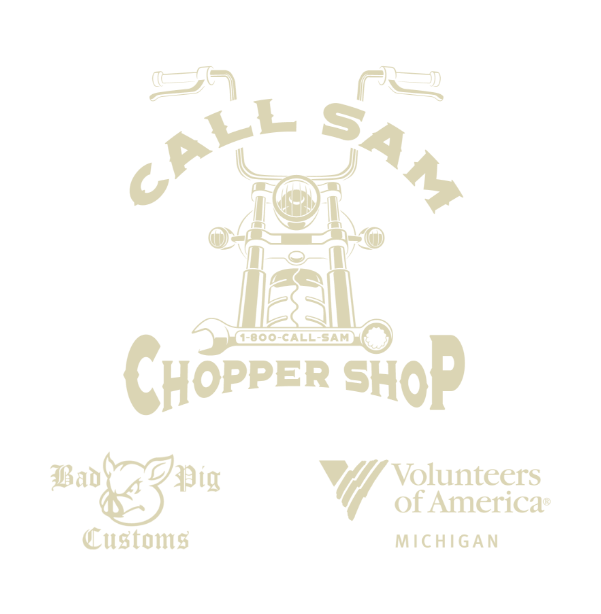 CALL SAM CHOPPER SHOP
---
We are excited to announce our new charity focused motorcycle program: The Call Sam Chopper Shop! In partnership with Bad Pig Customs, the Call Sam Chopper Shop is building a one-of-a-kind motorcycle and we want YOU to be a part of the action, with our celebrity host Darren McCarty!
Over the next several months The Sam Bernstein Law Firm will be working with Bad Pig Customs in Hazel Park, MI to build a custom motorcycle. The entire process will be documented for all to watch and once completed, the new motorcycle will be donated to Volunteers of America Michigan (VOAMI) and raffled off to one lucky winner in support of our veterans!
Follow along with Darren McCarty below as we rebuild and customize the bike! Videos will be uploaded throughout the process to our website, YouTube and all social media channels. There you will join us and be able to see the step-by-step process that it takes in order to build such an amazing machine. Be sure to subscribe to our channels so you can get alerts and follow along with the rebuild process.
RAFFLE TICKETS AND EVENTS
---
The Sam Bernstein Law Firm and VOAMI will be attending as many motorcycle events as possible this summer to give away Call Sam Chopper Shop merchandise and sell raffle tickets.
Raffle tickets can also be purchased through the VOAMI Website by clicking the below button. You can purchase as many tickets as you want, each ticket is one chance to win this bike! And all raffle ticket proceeds go directly to VOAMI to help Michigan veterans. Seriously, what could be better than supporting our veterans while having a chance to win a custom motorcycle?!
HOSTED BY DARREN McCARTY: EPISODES AND MORE
---
Join our host Darren McCarty, former teammate and Stanley Cup champion of the Detroit Red Wings, and click on any of the episodes below to watch the rebuild progress unveil step-by-step. Darren will be walking all of our viewers through each stage of the build. Allowing YOU to be a part of the action.
PROJECT PURPOSE
---
The Sam Bernstein Law Firm created The Call Sam Chopper Shop based on inspiration from our motorcycle clients who were injured while doing what they love. Riding is a way of life. And many of our clients continue to ride despite the horrific injuries and obstacles they have faced.
This project is meant to bring bikers together all while supporting Michigan veterans who have selflessly served our nation. Our firm is constantly in awe of the unrelenting determination and positive outlook of both our clients and our veterans.
BERNSTEIN BIKER ADVANTAGE®
---
Many of our attorneys and staff ride and know first-hand the dangers of riding a motorcycle on the road. Distracted drivers are everywhere and accidents happen in the blink of an eye. Knowing the complexities of Michigan's motorcycle law is key to receiving the compensation you deserve if you or a loved one is involved in a motorcycle accident.
We know first-hand the joys that come with riding on a beautiful day. And being motorcycle enthusiasts ourselves, we also know the unique challenges that riders face in the state of Michigan because of No-Fault law. We care and take each of our client's cases personally because that's what family does.

"THEY KEPT ME UPDATED."
- Veronica, Actual Client

"I WILL BE FOREVER GRATEFUL."
- Tim, Actual Client

"I FELT LIKE I WAS A PART OF THE FAMILY"
- Terrence, Actual Client

"VERY PROFESSIONAL & KNOWLEDGEABLE"
- Sherry, Actual Client

"PASSIONATE, COMPETENT, COMMITTED"
- Actual Client

"THEY STAND BY THEIR WORD."
- Actual Client

"KIND & COMPASSIONATE"
- Nancy, Actual Client

"YOU CAN TRUST THEM 100%."
- Michael, Actual Client

"HONEST, CARING, SUPPORTIVE."
- Janice, Actual Client

"THEY TOOK PERSONAL INTEREST IN ME."
- Janice, Actual Client

"I KNEW I WAS IN GOOD HANDS"
- Jerry, Actual Client

"NUMBER ONE PERSON I'D RECOMMEND."
- Actual Client

"SAM'S GOT YOU COVERED."
- Chris, Actual Client
HAVE YOU BEEN INJURED?
---
Learn more about the legal services our team of injury lawyers provide, and get The Bernstein Advantage®, today!