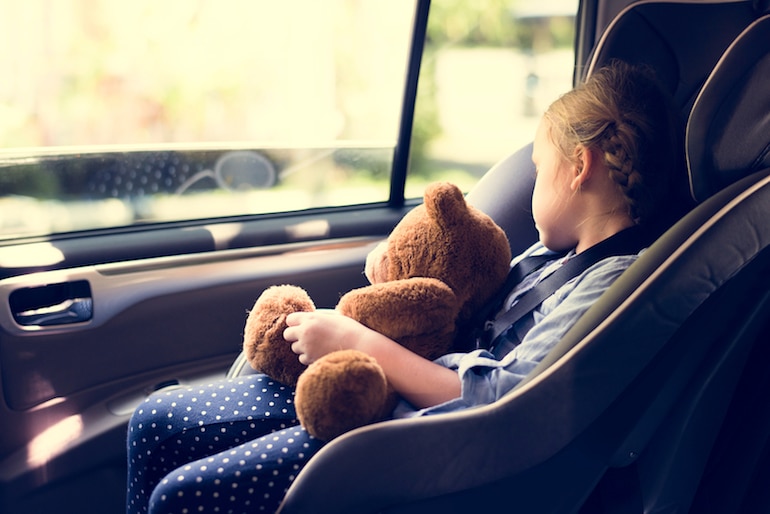 Michigan Car Seat Laws: What You Should Know Before Your Next Road Trip
July 2, 2019
Did you know that more children ages 1 – 13 die from injuries incurred in car crashes than from any other cause? Children who ride in size- and age-appropriate car seats have more than a 50% greater chance of surviving a crash than those who ride without restraints, but more than 70 percent of car seats are installed incorrectly. We never want to put our children at risk, and failing to use the right car seat can do just that. That's why it is so important for parents and caregivers to understand and follow Michigan car seat laws. 
Which car seat is right for your child?
Under current Michigan car seat laws, children under the age of 8 or less than 4 ft. 9 in. tall must ride in a car seat or booster seat. Children must use the correct seat until they exceed either the age or the height requirement, whichever comes first.
In addition:
Children younger than four years old must ride in the rear seat of the vehicle.

If all available rear seats are occupied by children under four, a child under four years old may ride in the front seat.

A child in a rear-facing car seat may ride in the front seat only if the airbag is turned off.

All passengers under 16 must use a seat belt in any seating position, front or rear.

Passengers of any age must wear seat belts in the front seat.

The American Academy of Pediatrics recommends putting children younger than 13 in the back seat of the vehicle using the appropriate seat or seat belt.

There are four main categories of car seats and restraints. Michigan car seat laws require adult drivers to comply with the following requirements for each type of seat.
1. Rear-facing car seats
All babies and toddlers must ride in rear-facing car seats until they are two years old, or until they reach the maximum weight or height limit for the car seat.   
2. Forward-facing car seats
Children 2 or older, or those who have exceeded the weight and height limits of their rear-facing seat, must use a forward-facing seat. Children should remain in this seat until they reach the maximum allowed height and weight limit.
3. Booster seats
Children whose weight or height exceeds the limits of their forward-facing seat must use a booster seat. Make sure the booster seat is properly secured by the vehicle's lap/shoulder belt.
4. Seat belts
Children must use seat belts after they have outgrown the height and weight limits of their booster seat. For maximum protection, children should use the lap/shoulder belt rather than the lap-only belt found in the back seats of certain vehicles.
How to avoid common car seat mistakes
A child cannot be protected by a car seat that's the wrong size or improperly installed. Here are some tips for preventing the five most common car seat mistakes:
1. Harness straps that are too loose
Straps should fit snugly against the child. When the straps are fastened, you should not be able to pinch any excess strap material.
2. The car seat is too loose 
You should not be able to move a car seat more than one inch from side-to-side at the point where the car seat attaches to the vehicle.
3. Moving children to a larger seat too soon
Children should stay in their car seats until they exceed the height or weight limits of the seat.
4. The chest clip is too low 
Secure the chest clip level with the child's armpits to ensure straps remain in the correct position.
5. Putting kids in the front seat too early
If a crash occurs, children under 13 can be seriously hurt by the force of an airbag. 
For assistance installing car seats or determining whether they comply with Michigan law, visit your local police or fire station.
Michigan car seat laws are complicated, but finding the right lawyer is simple.
Call 1-800-CALL-SAM today for a free, no-obligation consultation.
Sources: