A Guest Blog by Attorney Stan Feldman:
Customizing your motorcycle is one of the greatest joys of owning a bike. Rarely do bikers keep them as purchased stock from the manufacturer. Rather, they are modified over time with custom pieces and accessories added until the bike eventually becomes both an extension and reflection of their personality and individuality. No two bikes are the same as such.
Even before I got my '99 Fat Boy, I was already planning what I wanted to do. I didn't want the black or matte finish that came with the bike. I love chrome. And more chrome. I wanted so much chrome on my bike that you would need sunglasses to look at it. So I started off buying sculptured chrome footboards and super loud chrome pipes….pretty soon virtually every external part I had swapped out for….you guessed it…chrome. I also wanted custom paint, with blue and black ghost flames. And a sling saddle bag for flare. But why stop there? How about a special (dare I say wide) gel padded seat. And, a GPS so I could get lost while exploring the back roads, yet easily find my way home.
And while I may have lost track of the number (and cost) of all of these modifications and accessories, my wife sure hasn't. She knows to the penny how expensive my "toys" are. When she showed me how much all those extras cost, I was shocked! The cost of customization had snuck up on me, having been doled out over the years. But, once brought to my attention, I knew I had to protect my investment better. So I called my insurance company.
Bad News: I did not have my bike adequately insured!
If you've added something to your bike that the manufacturer didn't equip it with originally, and it changes how your bike looks or rides, you've added custom parts and equipment (CPE). The problem is most base policies of motorcycle insurance will provide coverage of CPE only up to a certain limit, such as $1,000 in many cases.
If your accessories or parts are valued at more than that $1,000 (or whatever is automatically covered by your policy), there is no coverage.
The problem is easily solved by adding additional CPE and/or accessory coverage, for an additional cost/premium, to beef up your policy in the event those expensive parts and/or modifications are lost, damaged, destroyed or stolen.
A non-exhaustive list of CPE is as follows:
Alarms
Custom exhaust
Electronic Equipment
Extra Chrome
Fairings
Saddle Bags
Riding Apparel
Windshields
Special Seats
Tow behind trailers
1. Check your bike! Look at the amount of CPE on your bike to determine its value then check your insurance policy to see how much CPE coverage automatically comes with it (as part of collision and comprehensive coverage).
2. Cover the gap! If the value of your CPE is more than that included coverage you may want to consider purchasing additional CPE and/or Accessory coverage to protect these valuable additions to your bike.
3. Keep Your Receipts! Even with a sufficient amount of coverage, insurance companies will often require you to show proof of your upgrades. It's a good idea to track down receipts of previous upgrades and keep them in a folder with all future receipts as well.
4. Take Photos! To make sure the insurance company doesn't have a chance to deny your customizations, take photographs of you with your bike showing the upgrades.
We'd love to see the customizations on your bikes! Below is a picture of one of my Harleys, the '99 Fat Boy. Tweet us a photo or post one on our Facebook Page!
Have a safe and enjoyable riding season. Check back for more blogs about safety, gadgets, insurance tips and more.
ALSO READ: A Break in the Weather by Ron Marvin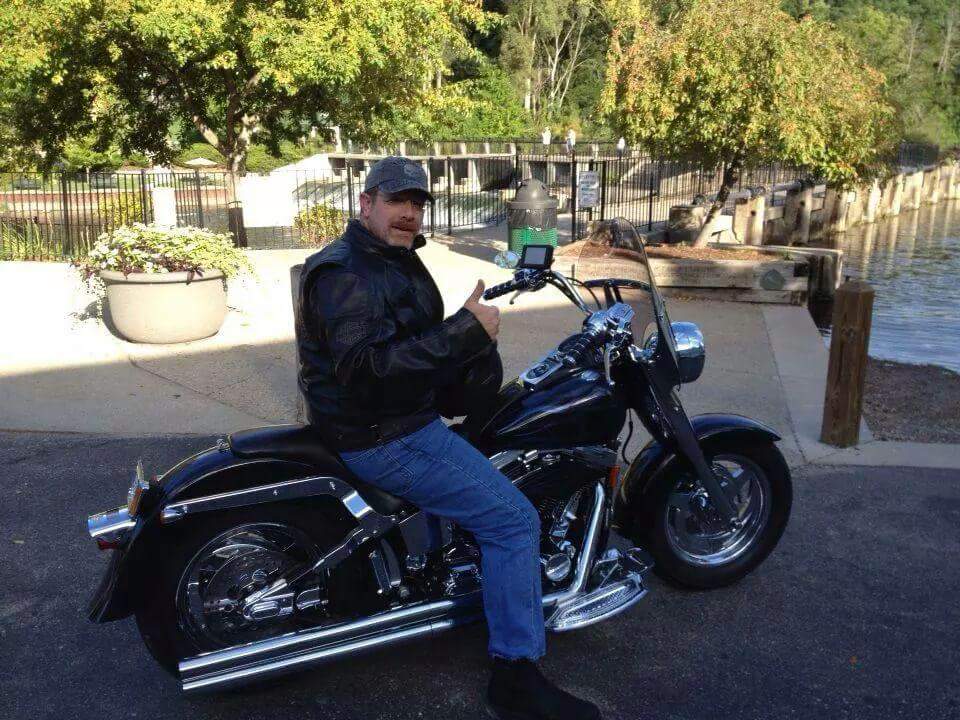 Do You Have a Case?